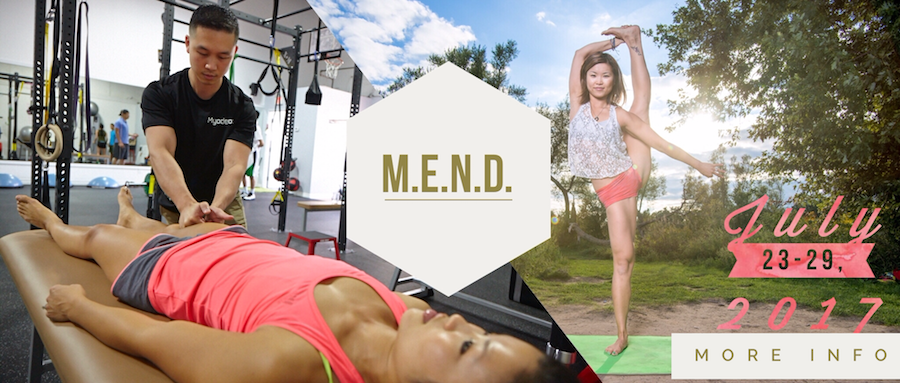 Experience the MEND Movement with Jessie and Joe in these 7 days of bliss. This retreat provides an immersive environment for you to strengthen, relax, and be pampered. With an anatomy focus, Jessie and Joe help you discover your strength through mindful movement in your yoga practice, on and off the mat. Together with Joe, they will restore and nourish your body and mind with a blend of Yoga Medicine, Thai Yoga Massage, and Structural Integration body work.
Included in this package:
6 nights accommodation at the centre
Daily meals (breakfast, lunch, dinner)
1 active yoga asana practice, daily
1 restorative/meditation practice, daily
1 x 60 minute body work session per person
Waterfall excursions
1 beach day-trip
1 ziplining experience
limited to 14 spots
Note: Your travel to and from the centre is NOT included.
More info:
Active Asana Practice:
Each morning begins with a short guided meditation followed by a mix of vinyasa/hatha yoga practice.
Vinyasa means a gradual progression or a step-by-step approach that systematically and appropriately takes a student from one point and safely lands them at the next point. It is sometimes described as the "breathing system," or the union of breath and movement that make up the steps. This practice will teach you to link breath to movement, build heat and energy in the body, and asks both your mind and body to explore new challenges.
Generally, in a hatha practice, the poses are held longer, for multiple breaths. Hatha yoga is a powerful tool for self-transformation. It asks us to bring our attention to our breath, which helps us to still the fluctuations of the mind and be more present in the unfolding of each moment.
Restorative Practice / Savasanahhh:
Restorative yoga calms the mind and nervous system, enabling you to turn inward, and focus on the breath. Gentle movements or poses are held for extended periods of time, maybe 5-10 minutes or more. The props assist in helping you to hold poses longer, allowing you to completely relax.
Savasanahhh is the delicious combo of Restorative Yoga and Thai Yoga Massage – the best of the postures described above, combined with incredible hands-on work by Jessie and Joe.
Body Work:
Your 60-minute treatment will be customized to suit your needs and preferences. It will be a blended treatment informed by studies in Thai Yoga Massage as well as structural integration. The schedule for your treatment will be determined just prior to the retreat.
Download Full Information Pack
About Jessie & Joe:
Jessie
My promise to you is to educate, encourage and support you, working together as we cultivate greater strength and wellbeing in every-day life. After 7 years of corporate experience in banking, portfolio management, equity trading and underwriting, I can empathize with the fast-paced lives many of you are experiencing. My approach to wellness stems from the approach I've taken in my own life – one that is holistic and encompasses a range of different movement practice, mindfulness practices, body work and nutrition. I have extensive training in …(read more)
Joe
We, as humans, are designed to move. As our society becomes more sedentary we commonly find that we've lost our inner sense of movement awareness. I've travelled and trained extensively with the legendary Tom Myers (Anatomy Trains) in order to gather the knowledge, experience and skill to deliver therapeutically-oriented body work sessions. Every session is tailored to you and designed with the intention of aiding in the return of functional, strong movement to areas that have become dormant over time. At the age of 30, after working as a corporate accountant for 6 years I realized …(read more)
July 23-29, 2017 - MEND


July 23, 2017 - July 29, 2017




9:00 am - 4:00 pm
Address:
de la esquina noroeste de la escuela Vista de Terraba, 2 km norte
,
Ciudad Cortes
,
60501
,
Costa Rica